Keep your Subaru running like new, stay with the  parts it had when it 
was
 new.
Routine Maintenance, Yes. 

Absolutely. 




Without regular maintenance stops, even a vehicle as well designed as Subaru will quickly lose that "new car" feeling. Scheduling routine maintenance with trained professionals is crucial, but what if your technician mentions aftermarket parts? 




Insists on Genuine Subaru Maintenance Parts. Aftermarket parts could save a few dollars up front, yes. Though, you may pay for it later with poor performance and shorter service intervals. III-fittings or incompatible aftermarket parts may even cause costly damages and require further repairs.  




Engine Drive Belts

Fiber-loaded reinforcement ribs resists wear and cracking and thermally active tensile cords provide maintenance-free performance




Oil Filters

Manufactured to rigid Subaru specifications, Genuine Subaru Oil Filters feature resin-impregnated filter materials or high contaminated-holding capacity and excellent filtration. 




Superior filter materials include cellulose, synthetic fibers and thermoplastic resins for superior filtration efficiency. 

Fuel Filters

High contaminant-holding capacity and stainless construction combine to protect internal components and prevent leaks. 

.


Brake Pad


Constructed from materials formulated for use with Genuine Subaru Brake Rotors, Genuine Subaru Brake Pads help prevent brake judder, noise and excessive

heat build-up, all which can impair stopping effectiveness.

 




Containing up to twice the platinum found in typical aftermarket plugs, genuine Subaru Platinum Spark Plugs provide longer-lasting tune-ups, quicker starts, less ignition component wear, lower emissions and better fuel economy.



Copper Spark Plus


The industry's largest (2.6mm) center electrode lengthens service life. A solid copper core protects against low-speed fouling and pre-ignition, while a 

high aluma ceramis insulators resist cracking at 

high speeds.

  




Unlike may generic brands, Genuine Subaru Wiper Blades are constructed with high-grade steel and natural rubber.



Winter Blades

 


Genuine Subaru Winter Blades prevent snow and ice build-up on the blade and ensure a clear view in even the wettest conditions.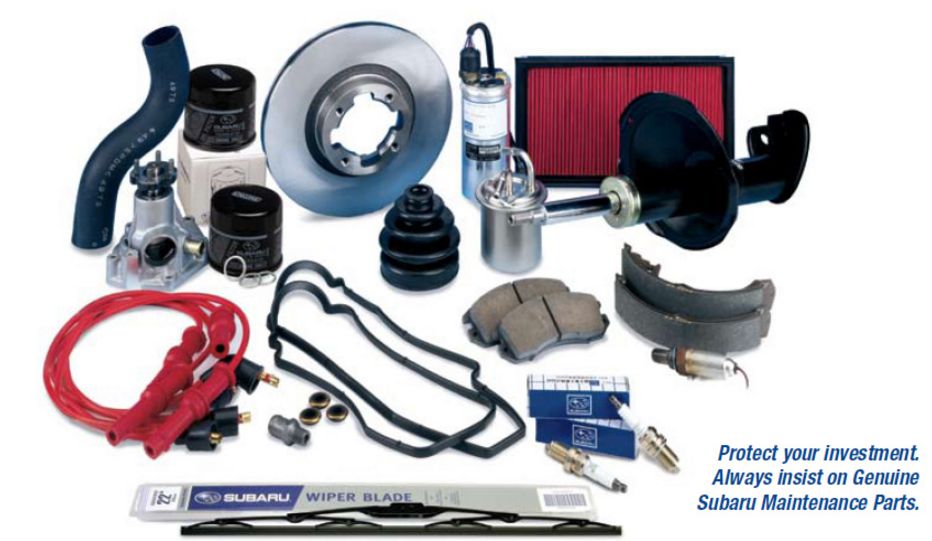 Genuine Subaru Maintenance Parts meet the same rigorous specifications as the parts installed on new Subaru vehicles, so you can be confident they'll preform like new. They'll also perform better than aftermarket parts and fit correctly for fast, trouble free installation.
Priced competitively and readily available at LaRiche Subaru. Genuine Subaru Maintenance Parts will help your vehicle leave the shop performing like it just left the showroom. 
LaRiche Subaru can provide for your vehicles regular maintenance needs
. Regular scheduled maintenance helps your Subaru retain its performance, efficiency and reliability. Our Subaru Certified Technicians
 use Genuine Subaru Maintenance Parts when performing routine service and maintenance on your Subaru. Don't take a shortcut with aftermarket imitation parts when your Subaru needs service performed. Aftermarket parts installed by other technicians may lead to more costly repairs down the road. Only Genuine Subaru Parts
 are engineered with OEM specifications and requirements to fit your Subaru perfectly and perform as well as the original factory installed part. Request OEM Maintenance Parts at LaRiche Subaru or online.